Momotombo– Born in 2003, Henry made over whooping $110,000 on the track. He is slowly coming along as a lunge-line lesson horse, as well as jumping small courses. We have high hopes for Henry in the future! He has a huge heart and tries his best in every activity we throw his way. This big guy can give kisses and nod to answer your questions- clever!
http://www.equibase.com/profiles/Results.cfm?type=Horse&refno=6733744&registry=T
---
Autism Awakeness: Our newest Square Peg member, Finn, is welcomed into our crazy herd. A 2007 TB gelding, Finn is a huge teddy bear and already has a growing fan club of teenage girls and doting volunteers. Finn was involved in a trailer accident before he came to the ranch so he is just enjoying the sunshine and love at the moment, with years ahead of him for training. As of January 2015, the Kunze family is now sponsoring Finn- congratulations Janet, John, Jack, Ava, and Stormy!
http://www.equibase.com/profiles/Results.cfm?type=Horse&refno=8065700&registry=T
---
Bert was once a Grand Prix show-jumper, a dressage champ, and is now an asset to our program. As talented as he is, his real value lies in his gentleness. He's our best guy for introducing vaulting and longe line work, but is best at being an inviting soul to those who need it. His large gaits should prevent him from being a great school horse for beginners, but his generosity draws you in. As of December 2013, Ms. Carolyn Bielagus is Bert's sponsor. Congratulations Carolyn!
---
Irresponsible King: This handsome son of Kingmambo loves to wow the crowd. Stanley, a 2002 gelding, made $20,400 on the track but is much better suited as Joell's partner in dressage, trail rides, and jumping. He's our best "trick" horse and would love to show you how he can count, bow to the ground and stand on a pedestal.  Stanley is the barn's goofball and has a heart for everything. When he arrived at the ranch 6 years ago, he was suffering from a cracked shin and a chronic throat problem; there was a time that we weren't sure he would make it through the winter. We sure are glad he did.
http://www.equibase.com/profiles/Results.cfm?type=Horse&refno=6527090&registry=T
---
Panzur: Oh Panz-man! Panzur is a 1993 Holsteiner gelding. He was imported from Germany to be a grand prix jumper, and has competed in the junior jumpers and equitation circuits as well. Panzur was purchased by his current owner, Laura Hansen, in 2006. She showed him in the equitation and medals, and together they qualified for and competed in most of the major California and national medal finals. He was retired in 2011 and going feral in the herd of Stanford polo ponies until he found his new job as a lesson horse at Square Peg. His favorite treat is peppermints, and his favorite activity is licking people.
---
Halekou Thunder, aka Thor, a 2012 gelding who found Square Peg in late 2015. Thor won a whopping $490 on the track, and clearly needed a career change. Thor was completely shut off from the world when he first arrived at Square Peg- no appetite, emotionally dismissed, and just plain depressed. Thanks to our wonderful students, staff, and key volunteers, Thor has come out of his shell and connected with a multitude of Square Peg humans. We can't wait to start working with him.
http://www.equibase.com/profiles/Results.cfm?type=Horse&refno=9326785&registry=T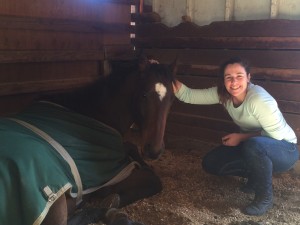 ---
Seven Bridges: This is one of the newer Square Peg additions. Ace was born in 2009 and made around $50k on the track. He is a tall, lanky bay, and found his new friend, Owen, at our ranch. Ace will play with anyone and loves to show off his soft side. He is in training now and has started teaching some lessons!!
http://www.equibase.com/profiles/Results.cfm?type=Horse&refno=8700275&registry=T
---
Colonel Clark: Making a little over $7,000, Owen came off the track with a broken knee and a curious brain. He was born in 2011 and has found a friend in Ace (we call them The Bros!) Owen enjoys running in the turnouts, snacking on hay, and practicing his tricks. If you are ever looks for a snuggle friend, this would be him! He is teaching walk/trot lessons now and proves to us everyday that he belongs here.
http://www.equibase.com/profiles/Results.cfm?type=Horse&refno=9104957&registry=T
---
A somewhat new addition to our collection of horses, Eve is a 2008 mustang-thoroughbred cross from southern California. She is a magnificent trail horse and she is becoming quite the jumper.  Though she can be moody at times, she has a quirky personality and she loves to do tricks! She can count with her front legs, give a cute smile, and even hug! One of our riders took a love to her last May & now as of October 2014, Ms. Kemma Peters is sponsoring Eve!
---
Extra Fifty: We are smitten with our new 2008 gelding, Curtis! Curtis was involved in a pasture accident during his layup time and had his left eye fully removed. He is quirky, energetic, and loves to cuddle. His lack of an eye has yet to slow him down- in contrast he leads the craziness in turnout and has found a friend in Stanley. Here's to the years ahead with this athletic guy!
http://www.equibase.com/profiles/Results.cfm?type=Horse&refno=8328772&registry=T
---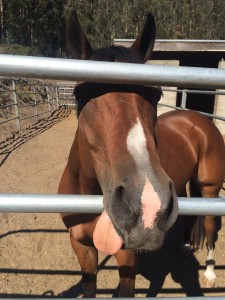 Roxy: A fancy LA show pony, Roxy came to us mid-year 2015. We are beginning to turn her into a Square Peg lesson horse, and she already fits in great. She is always game for cookies and keeps even the most wiggly kids safe. More to come from this sassy girl!
---
Cee's for Clever: Our grey dressage pony, Cecil, was born in 2004 and made a little over $110,000 while racing. This sweet dude can smile, bow, and count, but his real skills lie in the dressage court. He is a fantastic mover and we have high hopes that he will become a schoolmaster for the program in the near future. Cecil enjoys calm, attentive riders, and building relationships with his students.
http://www.equibase.com/profiles/Results.cfm?type=Horse&refno=7157339&registry=T
---
Although Classica's race history is somewhat of a mystery, we are very sure of one thing- we love this horse! Owned by Dave Lawson, Classica has been used for polo, jumping, trail rides, and teaching lessons. We are so grateful to Dave for continuing to let us work with his sweet mare. Classy keeps all of her students safe, and is the perfect horse for that slow, quiet trot so many of our kids want and need.
---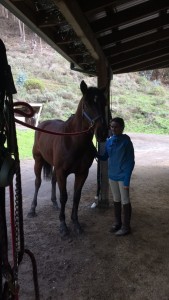 Mythical Storm, aka Hermes, raced in Southern California before heading north and ending up at Square Peg in late 2015. He has a great brain, wonderful build, and a curiosity to learn. Staff member, Rebecca Knopf, has taken an immense interest in Hermes and has brought him along beautifully. Hermes is great to work with and has even taught a few lessons so far. His future is bright!
http://www.equibase.com/profiles/Results.cfm?type=Horse&refno=9071454&registry=T
---
Retired at Square Peg:
Monty: Where to begin with our dear friend Monty? He has carried us through chukkars, on first canters, and throughout our rolling HMB hills. Monty is a steady ride who will wiggle his nose right into your heart. At the ripe age of 30, Monty is now retired and lives out with his girlfriends, Stitch and Tina. Thank you for the miles of rides Mr. Monty.
Tina: A true polo pony at heart, Tina is the toughest mare we have had the pleasure of riding in our program. Tina has a spicy personality and refused retirement time and time again- the polo arena was calling her name! Once Stitch came along though, Tina was more than happy to spend the days eating and roaming the hills of our retirement pasture with her new best friend.
Forbidden Stitch: Born in 1984, Stitch is now in her old age and is retired in the pasture at Square Peg Ranch. Stitch made almost $800 on the track, but was quickly taken off the track and used as a broodmare and lesson horse. Stitch took a special rider to understand her need for speed and to fly over jumps, despite her small size. After 2 years in our program as a lesson pony, Stitch has retired to the hillside alongside her best friend, Tina.
http://www.equibase.com/profiles/Results.cfm?type=Horse&refno=970127&registry=T
Gigi: Oh, the princess of the barn! Gigi has been with the program since the beginning and never fails to sass us- even after all these years. Over the years, Gigi was great for long-line lessons, as well as lungeing. Her canter was impeccable. Growing older means more snuggles and grass sessions!