By Deborah Lynn Rod
I've been doing a lot of thinking about the role Square Peg played in my life. Doesn't the end of the year spur a wave of contemplation in all of us?

In 2012, I had the opportunity to work as an intern for Square Peg. I maintained this position for about two years. I admit that when I first came to Square Peg, I had little interest in working with the kids. I was all about the horses. Sure, I had some previous experience working with children at the Jewish Community Center summer camps and adults with disabilities at S.F. State University, but I never expected to get so deep in this crusade for empowerment.
At Square Peg, I flourished. My world became bigger. I found my niche. I couldn't stop raving about Square Peg to all my friends, families, and anyone who had at least 30 minutes of listening to spare. At the risk of tooting my own horn, I was darn good at working with kids with autism. I've concluded that my skill in working with children with autism was cultivated less from an academic fascination with the neurobiology of the autistic brain; it was more because I like to roll around in dirt and horse shit as much as the next 6-year-old.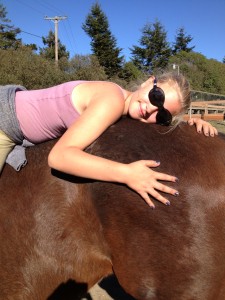 Square Peg provided a vessel for me to help others but Square Peg helped me too. I was diagnosed with ADHD/ADD at age ten (coincidentally, the same time I started riding horses). Since then, I was on five or six different medications for over ten years. I was explaining my medication history to someone when it hit me that I had been on powerful stimulants for 10 years; a decade of crucial emotional, physical, and mental development. I didn't know who I was without the meds. Although, friends told me that I was more "fun" when I would choose to skip my meds, giving some insight into what the real Deborah was.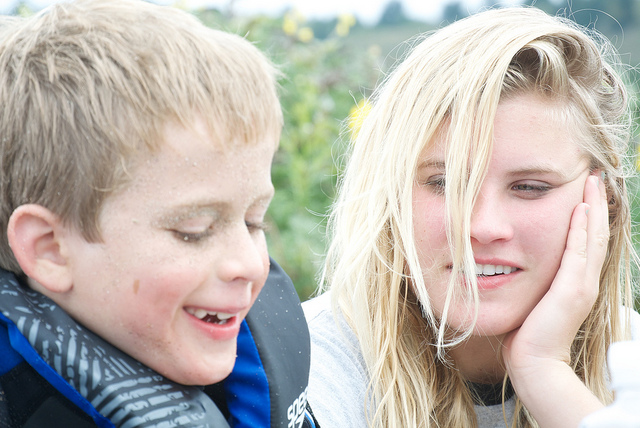 But fun it was not. It was a hellish withdrawal for me. I gained  30 pounds, stopped going to class (I was a straight -A student prior to this). I could hardly get out of bed. It was hard to talk to people because I couldn't keep track of the words and ideas in my head long enough to form a coherent statement. It was all word vomit. My world was getting smaller. In the midst of my "breakdown," I resigned from Square Peg with a cold and formal email.
Before I left Square Peg, I informed Joell of my decision to quit my meds. She gave me advice that I never forgot. Joell told me "Be kind to yourself."
I thought, "yeah yeah, easy enough." I was wrong. For a year, I struggled to find consistencies in my fundamental interests. What motivated me unmedicated? I found intrinsic motivation with my new Africana Studies major and Special Education minor. I credit Square Peg for introducing me to the practice of adaptive teaching and the healing power of community and the great outdoors. I had a lot to contribute to the discussions in all my classes based off things I learned at the ranch. Things were looking up for ol' Deb Deb. The biggest game changer for me, however, was traveling.
This summer, I visited eight countries in two months. Everywhere I went, I struck up conversations with people about how they
perceive autism in their respective countries and what services were available to people with autism. I met a high school teacher in Paris who was moved to tears by my drunken ramblings about the success stories at Square Peg and how hope is the fuel that drives us forward to keep effectively working with kids who are labeled as "problematic" or "difficult."
Even though I was no longer at Square Peg, the foundation was still making my world bigger.
My quarter-life-crisis has come and gone just in time for 2016 to start. I plan on returning to Square Peg several times a week again and moving forward with the organization as much as possible. Square Peg opens doors to a world of adventure and love; a world I hope to expose as many families to as possible in my current and future endeavors with the autism community. I may have left Square Peg, but Square Peg never left me.